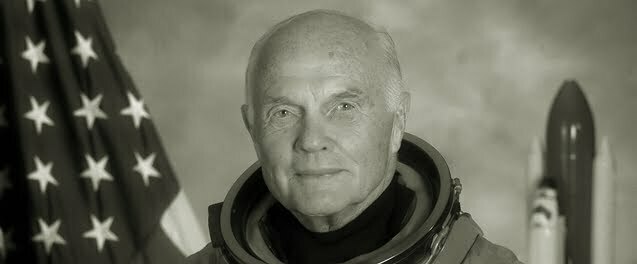 John Glenn enters space
To listen to this post, click here –
On this day in 1998 the astronaut John Glenn became the oldest man in space when he orbited the earth at the age of 77.
Already a national hero, John Glenn had become the first American in space in 1962 at the start of the space age. His extraordinary life started much earlier in the USAF during World War II when he flew 59 combat missions. Going into politics in later life, he was a US Senator for over 20 years and was still a Senator when he went into space a second time.
This exploit at such an advanced age gave huge inspiration to millions. The view from a space capsule is said to be truly awesome. Shakespeare never had that experience yet he could write movingly about his own view of the world.
Here is Sonnet XXXIII:
Full many a glorious morning have I seen
Flatter the mountain tops with sovereign eye,
Kissing with golden face the meadows green,
Gilding pale streams with heavenly alchemy;
Anon permit the basest clouds to ride
With ugly rack on his celestial face,
And from the forlorn world his visage hide,
Stealing unseen to west with this disgrace:
Even so my sun one early morn did shine,
With all triumphant splendour on my brow;
But out, alack, he was but one hour mine,
The region cloud hath mask'd him from me now.
Yet him for this my love no whit disdaineth;
Suns of the world may stain when heaven's sun staineth.
Today I give thanks for the bravery of men like John Glenn and I welcome the inspiration his achievements bring to all those experiencing old age.