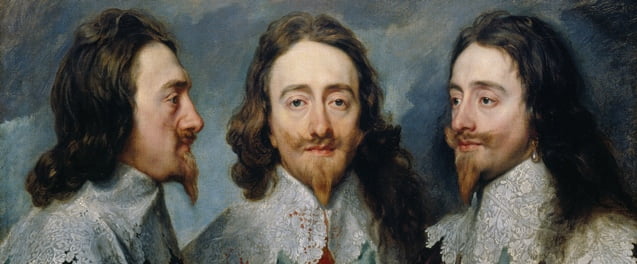 King Charles I loses his head
On this day in 1649 King Charles I of England was beheaded at Whitehall Palace. It was a cold day and Charles wore two shirts so that the people might not see him shiver. His head was severed in one blow whereupon, in the words of one observer: "a groan, as I never heard before and desire I may never hear again" arose from the assembled crowd.
Later, the head was sewn back on and the body placed in a lead coffin. Oliver Cromwell, the man most responsible for the regicidal deed, visited the coffin and was heard to murmur the words "a cruel necessity". Charles' arrogance and belief in his divine right to rule had made him an impossible monarch, but his execution and the manner in which he conducted himself during it, turned him into a royal martyr.
The poet Andrew Marvell described the terrible event:
He nothing common did or mean
Upon that memorable scene:
But with his keener eye
The axe's edge did try.
Nor called the gods with vulgar spite
To vindicate his helpless right,
But bowed his comely head
Down as upon a bed.
Charles did not want any revenge taken for his death. However, following the restoration in 1660, his son Charles II pursued a relentless quest to bring the regicides (the 59 signatories to his father's death warrant) to justice. Eventually, 19 were executed and a further 19 were imprisoned.
Today I will reflect on forgiveness towards those that do me harm.