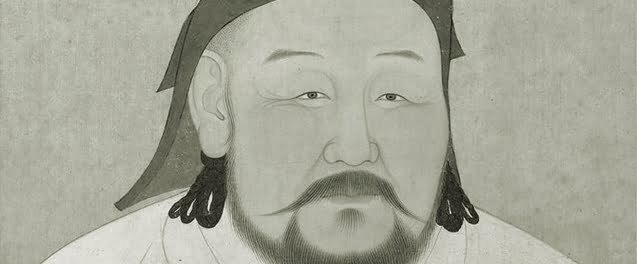 Kublai Khan inspires Coleridge
To listen to this post, click here –
On this day in 1215 Kublai Khan, grandson of Genghis Khan was born, soon to be ruler of the vast Mongol Empire in Asia.
Kublai was an enlightened ruler, supporting both the Buddhist and Islam religions. He was also interested in trade; Marco Polo, the Venetian merchant, spent 17 years at his court.
Samuel Taylor Coleridge was in an opium induced trance when he wrote this poem. Maybe that makes it special:
In Xanadu did Kubla Khan
A stately pleasure-dome decree
Where Alph, the sacred river, ran
Through caverns measureless to man
Down to a sunless sea….

A damsel with a dulcimer
In a vision once I saw:
It was an Abyssinian maid
And on her dulcimer she played,
Singing of Mount Abora.
Could I revive within me
Her symphony and song,
To such a deep delight 'twould win me,
That with music loud and long,
I would build that dome in air,
That sunny dome! those caves of ice
And all who heard should see them there,
And all should cry, Beware! Beware!
His flashing eyes, his floating hair!
Weave a circle round him thrice,
And close your eyes with holy dread
For he on honey-dew hath fed,
And drunk the milk of Paradise.
Today I give thanks that I can enjoy the beauty of the Orient without mood altering drugs.