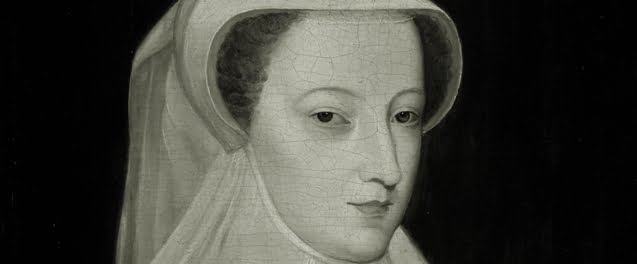 Mary Queen of Scots married for love
To Listen to this post, click here –
On this day in 1561 Mary Queen of Scots arrived at Leith to assume the Scottish throne after spending thirteen years in France.
Mary was ill-served by her advisors and soon alienated the Scottish Protestants, especially the clergy. Then she made the mistake of marrying for love rather than for political advantage. Her marriage to her cousin Lord Darnley, soon soured and her later liaisons with her Italian secretary, Rizzio and the Earl of Bothwell, caused great scandal.
Soon she was at war with her own subjects and eventually forced to flee to the protection of Elizabeth in England; a case of 'from the frying pan into the fire'. The story of her long imprisonment and eventual execution in Fotheringhay Castle is well known.
Mary liked to write poetry and was fluent in French. Here is a sonnet she wrote during her long imprisonment, Que Suis-je Hélas?
Alas what am I? What use has my life?
I am but a body whose heart's torn away,
A vain shadow, an object of misery
Who has nothing left but death-in-life.
O my enemies, set your envy all aside;
I've no more eagerness for high domain;
I've borne too long the burden of my pain
To see your anger swiftly satisfied.
And you, my friends who have loved me so true,
Remember, lacking health and heart and peace,
There is nothing worthwhile that I can do;
Ask only that my misery should cease
And that, being punished in a world like this,
I have my portion in eternal bliss.
Today I ask help for all those who are in prison, whatever the reason.