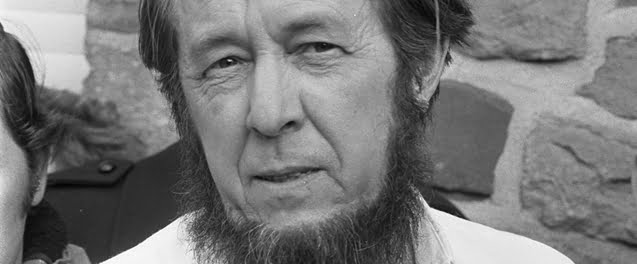 Alexander Solzhenitsyn's life of exile
To listen to this post, click here –
On this day in 1970 the Russian dissident author Alexander Solzhenitsyn was awarded the Nobel Prize for Literature.
Among his best known books are One Day in the Life of Ivan Denisovich and The Gulag Archipelago which drew upon his experiences in forced labour camps. Although a loyal Red Army officer during the Second World War, he was accused of anti-Soviet propaganda in 1945 and sentenced to eight years in a labour camp.
Following the demise of Stalin, Solzhenitsyn was freed from exile by Khrushchev and was even allowed in 1962, to publish One Day in the Life of Ivan Denisovich within the Soviet Union, where it became a huge best seller despite its politically charged themes. This publication was truly remarkable; fellow Russian Boris Pasternak's novel Doctor Zhivago had to be smuggled out of the Soviet Union to an Italian publisher, only five years earlier.
Although exiled from the Soviet Union in 1974, he was allowed back twenty years later and died in Moscow in 2008, aged 89. Much of his life had been characterised by exile. This poem, by American poet Harold Hart-Crane, gives some of that feel, Exile:
My hands have not touched pleasure since your hands,
No, nor my lips freed laughter since 'farewell'
And with the day, distance again expands
Voiceless between us, as an uncoiled shell.

Yet, love endures, though starving and alone.
A dove's wings clung about my heart each night
With surging gentleness, and the blue stone
Set in the tryst-ring has but worn more bright.
Today I ask to feel sympathy with all exiles and to offer them the hand of welcome.