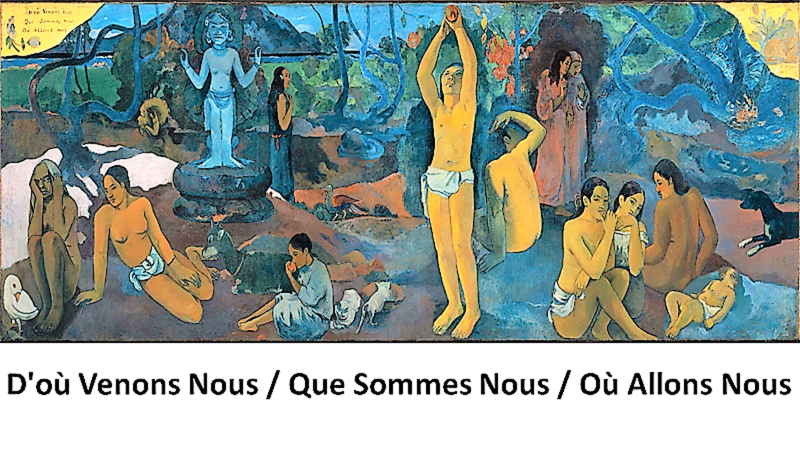 Poetry Therapy For The Inner Child – How Poetry Helps Us To Connect
When Paul Gauguin painted his famous masterpiece 'D'où Venons Nous / Que Sommes Nous / Où Allons Nous' (Where Do We Come From, What Are We, Where Are We Going To) he was simply asking the questions that people have always asked. They are the questions that make us different from other animals.
Gauguin painted this in Tahiti at a particularly difficult time, after receiving news of the death in France of his beloved daughter Aline, aged just 19. One can sense his despair and confusion, his desperate search for answers.
What's it all about, what's the point of living, he seems to be asking.
We are still asking these questions, even though we never get an exact answer. But we can get some ideas about it all.
They are questions that are particularly relevant when we are in recovery from addiction.
Gauguin's painting (read it from right to left) starts with birth and ends with death and is full of mysterious symbolism. The figures appear to be in some form of trance or dream.
Addiction puts us into a trance-like state too, a sort of sleep, and when we wake from it, the world can seem a frightening place – we are like children who have to learn about the world and their place in it, all over again.
We ask the questions Gauguin asked – where do we come from, what are we, where are we going? Like children, we are frightened and anxious, needing help.
American Beat Generation Poet, Allen Ginsberg (a big-time drugs user) described it like this;
..I never dreamed the sea so deep
The earth so dark, so long my sleep
I am become another child
I wake to see the world go wild.
People trying to answer Gauguin's questions often start as Gauguin seems to have done, in his painting, with the child.
Childhood can be frightening but it is also the time when we learn the most, and the time when learning comes to us quicker and more easily than in later life. We carry our childhood experiences around with us for the rest of our lives and we call this our 'Inner Child'. Our Inner Child is an important factor in our search for who we are.
Yet for many people, the idea of getting in touch with an inner child requiring nurture, is as alien as taking their clothes off in public. Definitely a step too far. Such people need skilful help to open their minds to new ideas and one method is through poetry. Through poetry, reading it or writing it, we get to see things differently, we find new ways of expressing our deepest feelings and we learn things about ourselves. Here are some mind-opening examples.
Many poets have described childhood in words of heart-rending beauty. There is enchantment in childhood as well as fear. Here are two of the best:

To a Child Dancing upon the Shore (1900) By William Butler Yeats
Dance there upon the shore;
What need have you to care
For wind or water's roar?
And tumble out your hair
That the salt drops have wet;
Being young you have not known
The fool's triumph, nor yet
Love lost as soon as won.
And he, the best warrior, dead
And all the sheaves to bind!
What need that you should dread
The monstrous crying of wind?
Fern Hill (1950) By Dylan Thomas
Now as I was young and easy under the apple boughs
About the lilting house and happy as the grass was green,
The night above the dingle starry,
Time let me hail and climb
Golden in the heydays of his eyes,
And honoured among wagons I was prince of the apple towns
And once below a time I lordly had the trees and leaves
Trail with daisies and barley
Down the rivers of the windfall light.
And as I was green and carefree, famous among the barns
About the happy yard and singing as the farm was home,
In the sun that is young once only,
Time let me play and be
Golden in the mercy of his means,
And green and golden I was huntsman and herdsman, the calves
Sang to my horn, the foxes on the hills barked clear and cold,
And the sabbath rang slowly
In the pebbles of the holy streams.
Poems like these make us yearn for our own childhood and fill us with a nostalgia for a time that may never actually have existed for us. Whether or not our own childhoods were happy experiences seems immaterial.
The inner child that we still carry with us until the very end of our dotage, somehow responds to words like these and conjures up for us the blue remembered hills of our youth –
…the land of lost content,
I see it shining plain,
The happy highways where I went
And cannot come again. (A E Housman).
As scarred and toughened adults, we still hang onto our inner child and desperately try to protect it from the horrors of ordinary life that we ourselves have had to deal with. And when life has been especially rough to us, as in the case of addiction for example, we become sad and ashamed of the way that we have treated it.
This shame and guilt, often manifested as depression, self-loathing and sometimes, self-harm, can immobilise people and can stop them from taking positive action for their recovery. In therapy, recognising one's inner child and understanding its place in our psychological makeup, can represent a turning point in the recovery process.
The next poem is poignant to the extreme, in the way that the writer expresses his feelings of protectiveness towards his helpless charge, as yet unborn, desperately wanting to shield it from the inevitable awfulness of everyday life.

Prayer Before Birth (1942) by Louis MacNeice
I am not yet born; O hear me.
Let not the bloodsucking bat or the rat or the stoat or the
club-footed ghoul come near me.
I am not yet born, console me.
I fear that the human race may with tall walls wall me,
with strong drugs dope me, with wise lies lure me,
on black racks rack me, in blood-baths roll me.
I am not yet born; provide me
With water to dandle me, grass to grow for me, trees to talk
to me, sky to sing to me, birds and a white light
in the back of my mind to guide me.
I am not yet born; forgive me
For the sins that in me the world shall commit, my words
when they speak me, my thoughts when they think me,
my treason engendered by traitors beyond me,
my life when they murder by means of my
hands, my death when they live me.
I am not yet born; rehearse me
In the parts I must play and the cues I must take when
old men lecture me, bureaucrats hector me, mountains
frown at me, lovers laugh at me, the white
waves call me to folly and the desert calls
me to doom and the beggar refuses
my gift and my children curse me.
I am not yet born; O hear me,
Let not the man who is beast or who thinks he is God
come near me.
I am not yet born; O fill me
With strength against those who would freeze my
humanity, would dragoon me into a lethal automaton,
would make me a cog in a machine, a thing with
one face, a thing, and against all those
who would dissipate my entirety, would
blow me like thistledown hither and
thither or hither and thither
like water held in the
hands would spill me.
Let them not make me a stone and let them not spill me.
Otherwise kill me.
For anyone trying to come to terms with their situation involving pain, loss of dreams and unhappiness, the therapeutic value in connecting with the inner child that lies within us all is immense. Doing so will help with feelings of failure, guilt and despair. By reverting to this very basic human instinct of wanting to nurture another, we are in fact helping and nurturing ourselves. And thus we find forgiveness and new hope.
I could not end this piece without including Edna St Vincent Millay's heart-stoppingly tender poem, Prayer to Persephone, written on the occasion of the actual death of a child (in Greek mythology, Persephone was carried away by Hades, God of the underworld, who forced her to live with him) –
Prayer to Persephone (1920) by Edna St Vincent Millay
Be to her, Persephone,
All the things I might not be:
Take her head upon your knee.
She that was so proud and wild,
Flippant, arrogant and free,
She that had no need of me,
Is a little lonely child
Lost in Hell,—Persephone,
Take her head upon your knee:
Say to her, "My dear, my dear,
It is not so dreadful here."
'D'où Venons Nous / Que Sommes Nous / Où Allons Nous?' (Where Do We Come From, What Are We, Where Are We Going To ?) – Gauguin asked these questions and our inner child asks us the same. We cannot answer because we do not know. All we can do is our best, for our inner child, and that means, for ourselves.
'It is our uncertainties that give us compassion, it is our doubts that make us tolerant of others, and above all, ' our loves that cleanse the planet and keep it holy, and maybe will keep it alive. Doubts and loves nurture the world.'
(Richard Holloway)
Begin by nurturing the inner child.