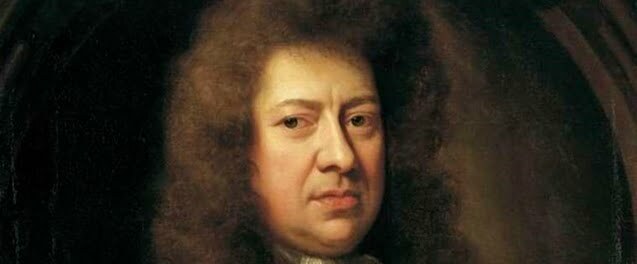 Samuel Pepys has a dream
On this day in 1633 the English diarist Samuel Pepys was born. Sometimes he comforted himself at night as when he dreamt, during the terrible year of the great plague, that he was with the King's favourite mistress, Lady Castlemaine: "The best that ever was dreamed – which was, that I had my Lady Castlemayne in my arms and was admitted to use all the dalliance I desired with her, and then dreamed that this could not be awake but that it was only a dream. But that since it was a dream and that I took so much real pleasure in it, what a happy thing it would be, if when we are in our graves (as Shakespeare resembles it), we could dream, and dream but such dreams as this – that then we should not need to be so fearful of death as we are this plague-time."
Today's poem is by John Donne, who lived through plagues before Pepys was born:
Go and catch a falling star,
Get with child a mandrake root,
Tell me where all past years are,
Or who cleft the devil's foot,
Teach me to hear mermaids singing,
Or to keep off envy's stinging,
And find, what wind
Serves to advance an honest mind.
If thou be'st born to strange sights,
Things invisible to see,
Ride ten thousand days and nights,
Till age snow white hairs on thee,
Thou, when thou return'st, wilt tell me,
All strange wonders that befell thee,
And swear, no where
Lives a woman true and fair.
Though she were true, when you met her,
And last, till you write your letter,
Yet she will be
False, ere I come, to two, or three.
Today I ask that I will never lose my enjoyment and appreciation of life, even in the face of disaster.