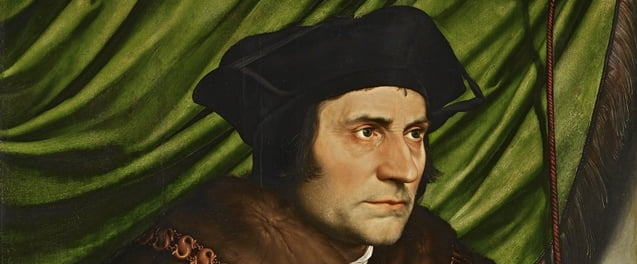 Sir Thomas More listens to his conscience
On this day in 1478 Sir Thomas More, humanist, writer and statesman was born. More was a great scholar and a pious man who had, in his twenties, considered entering a monastery. His writings, especially Utopia, the imaginary land where laws were made on the basis of reason and a kind of communism was practised, brought him to the attention of King Henry VIII. More rose to become the king's chief advisor.
Later, however, Henry began his tortuous quest to find justification in the eyes of the church, for his divorce from his first wife, Catherine of Aragon. Eventually More had to choose between his King and his religious beliefs. He chose the latter and the consequences were dire. He was imprisoned, tried for treason and executed by a furious Henry. His final words were: "The king's good servant, but God's first." During his imprisonment he wrote some verses:
Eye-flattering Fortune! Look thou ne'er so fair,
Or ne'er so pleasantly begin to smile,
As though thou wouldst my ruin all repair,
During my life thou shalt not me beguile;
Trust shall I God to enter in erewhile,
His haven of havens sure and uniform:
After a calm I still expect the storm.
Long was I, Lady Luck, your serving-man,
And now have lost again all that I gat;
When, therefore, I think of you now and then,
And in my mind remember this and that,
Ye may not blame me, though I shrew your cat;
In faith I bless you, and a thousand times,
For lending me some leisure to make rhymes.
Today I will try to learn from the example of those who have difficult choices to make and manage to choose the right one.