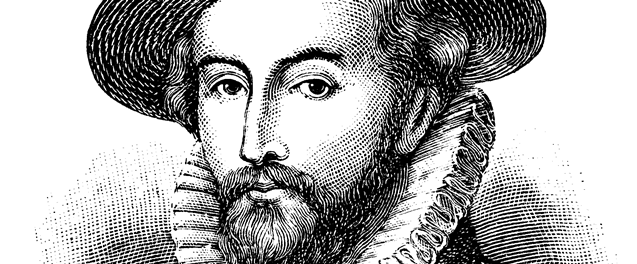 Sir Walter Raleigh upsets King James
To listen to this post, click here –
On this day in 1618 the English adventurer and writer Sir Walter Raleigh was beheaded for allegedly plotting against King James I of England.
Raleigh had risen rapidly in the favour of Queen Elizabeth I and was knighted in 1585. Involved in the English colonisation of North America, he was granted a royal patent to explore Virginia. After Queen Elizabeth died in 1603, Raleigh was imprisoned in the Tower, for being involved in the Main Plot against King James I, who was not favourably disposed toward him. In 1616, he was released to lead a second expedition to South America in search of gold. This was unsuccessful, and men under his command ransacked a Spanish outpost. He returned to England and, to appease the Spanish, was arrested and executed in 1618.
Raleigh is well known for promoting the smoking of tobacco in England. As King James had written one of the earliest known attacks on the smoking habit, it is perhaps not surprising that they did not get along. Raleigh was known for his charm and his poetry reflects this; here is Farewell to the Court:
Like truthless dreams, so are my joys expir'd,
And past return are all my dandled days;
My love misled, and fancy quite retir'd –
Of all which pass'd the sorrow only stays.
My lost delights, now clean from sight of land,
Have left me all alone in unknown ways;
My mind to woe, my life in fortune's hand –
Of all which pass'd the sorrow only stays.
As in a country strange, without companion,
I only wail the wrong of death's delays,
Whose sweet spring spent, whose summer well-nigh done
Of all which pass'd only the sorrow stays.
Whom care forewarns, ere age and winter cold,
To haste me hence to find my fortune's fold.
Today I will remember all those suffering from addiction of any kind.