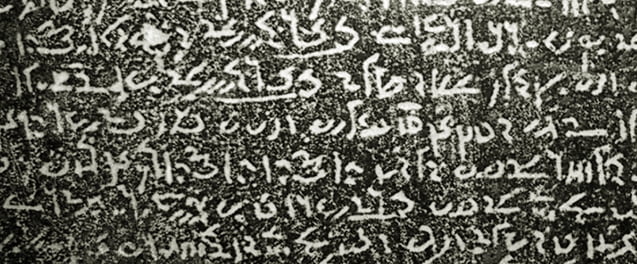 The Rosetta Stone reveals Egypt's past
TO LISTEN TO THIS WHOLE POST, CLICK HERE –
On this day in 1799 the Rosetta Stone was found in a village in Egypt.
This is essentially a large stone inscribed with a decree issued at Memphis in Egypt in 196 BC on behalf of King Ptolemy V. It was discovered by an officer in the army of Napoleon, who had recently invaded Egypt and had been used as building material for a military fort.
The decree appears in three scripts: Ancient Egyptian hieroglyphs, Demotic Greek script and Ancient Greek. Because it presents essentially the same text in all three scripts, it provides the key to understanding Egyptian hieroglyphs. Without this astonishing find, our knowledge of life in ancient Egypt would be much more limited.
Consider this Egyptian love poem, written thousands of years ago, My Heart Flutters Hastily. I find it comforting that ancient Egyptians felt like we do:
My heart flutters hastily,
When I think of my love of you;
It lets me not act sensibly,
It leaps from its place.
It lets me not put on a dress,
Nor wrap my scarf around me;
I put no paint upon my eyes,
I'm even not anointed.
"Don't wait, go there," says it to me,
As often as I think of him;
My heart, don't act so stupidly,
Why do you play the fool?
Sit still, the brother comes to you,
And many eyes as well.
Let not the people say of me:
"A woman fallen through love!"
Be steady when you think of him,
My heart, do not flutter!
Today I will remember the family of man, to which I belong.