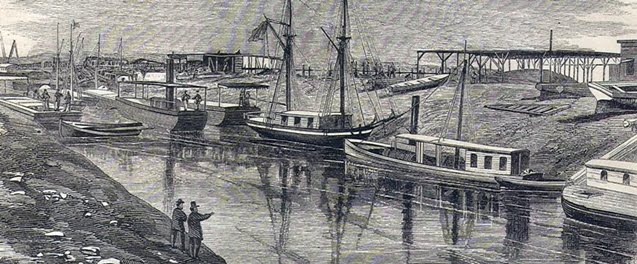 The Suez Canal – good for the British Empire
To listen to this post, click here –
On this day in 1869 the Suez Canal opened to shipping. The canal is 100 miles long, of which 75 miles were excavated by an estimated 30 thousand workmen. An average of 50 ships per day pass through it.
The canal was a great boost in the days of the British Empire, as ships travelling to India and the Eastern colonies no longer had to make the long trip round Africa via The Cape of Good Hope. They used to say that the sun never set on the British Empire but that's not the case today.
Rudyard Kipling is called the poet of the British Empire. Here is his poem addressed to the USA, when their influence was increasing worldwide, The White Man's Burden:
Take up the White Man's burden –
Send forth the best ye breed –
Go send your sons to exile
To serve your captives' need
To wait in heavy harness
On fluttered folk and wild –
Your new-caught, sullen peoples,
Half devil and half child

Take up the White Man's burden –
Have done with childish days –
The lightly proffered laurel,
The easy, ungrudged praise.
Comes now, to search your manhood
Through all the thankless years,
Cold-edged with dear-bought wisdom,
The judgment of your peers!
Today I give thanks for the British Empire, for all its faults.