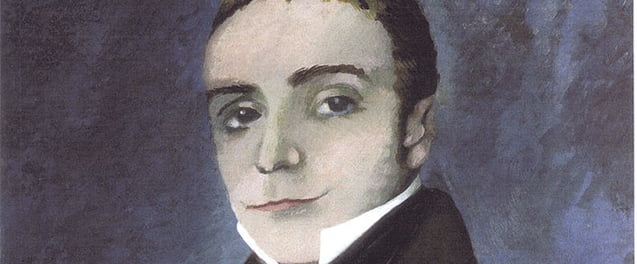 Thomas Lovell Beddoes' obsession with death
On this day in 1849 the English poet Thomas Lovell Beddoes poisoned himself in Basel, Switzerland, aged 45. Beddoes grew up in Bristol and was a brilliant scholar, becoming a doctor of medicine.
He became obsessed with death and devoted much of his time to seeking proof of the physical existence of the human spirit. He seems to have become progressively more deranged and alcoholic but nevertheless managed to write some of the most hauntingly and uniquely beautiful poetry of the 19th century, much of it only appreciated after his death.
Here is his Wulfram's Dirge:
If thou wilt ease thine heart
Of love and all its smart,
Then sleep, dear, sleep;
And not a sorrow
Hang any tear on your eye-lashes;
Lie still and deep,
Sad soul, until the sea-wave washes
The rim o' the sun to-morrow,
In eastern sky.
But wilt thou cure thine heart
Of love and all its smart,
Then die, dear, die;
'Tis deeper, sweeter,
Than on a rose-bank to lie dreaming
With folded eye;
And there alone, amid the beaming
Of Love's stars, thou'lt meet her
In eastern sky.
Today I ask that I will learn to appreciate and enjoy life and to be able to manage life's difficulties in a positive way.
Photo credit: Detail from 'Portrait of Thomas Lovell Beddoes' painted by Nathan Branwhite.