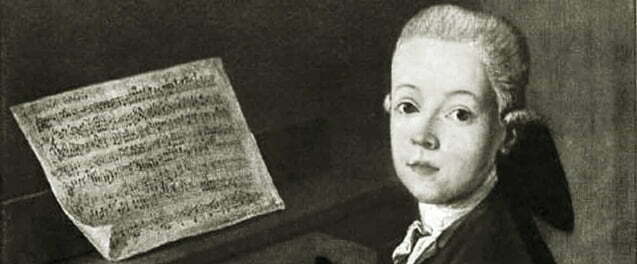 Mozart meets Marie Antoinette
On this day in 1756 Wolfgang Amadeus Mozart was born in Salzburg. His loving father quickly realised that Wolfgang and his sister were exceptionally talented at music, and as early as 1762 (when his son was only six) he started taking them on concert tours to show off their skills. From Munich they went to Vienna to the court of the Holy Roman Emperor, who was delighted with their performances. Here, both children were allowed to play with the Hapsburg children, including the seven year old Marie Antoinette, future Queen of France.
The story goes that young Mozart slipped and fell on the polished floor. Marie Antoinette, who was almost exactly the boy's age, caught him. He kissed her and told her "I'll marry you some day." They never met again. Mozart died aged 35, in December 1791 – Marie Antoinette went to the guillotine in 1793.
Today's poem is about music, from Shakespeare's Twelfth Night:
If music be the food of love, play on;
Give me excess of it, that, surfeiting,
The appetite may sicken, and so die.
That strain again! It had a dying fall:
O, it came o'er my ear like the sweet sound,
That breathes upon a bank of violets,
Stealing and giving odour! Enough; no more:
'Tis not so sweet now as it was before.
O spirit of love! How quick and fresh art thou,
That, notwithstanding thy capacity
Receiveth as the sea, nought enters there,
Of what validity and pitch soe'er,
But falls into abatement and low price,
Even in a minute: so full of shapes is fancy
That it alone is high fantastical.
Today I give thanks for opportunities given to me to learn from others.