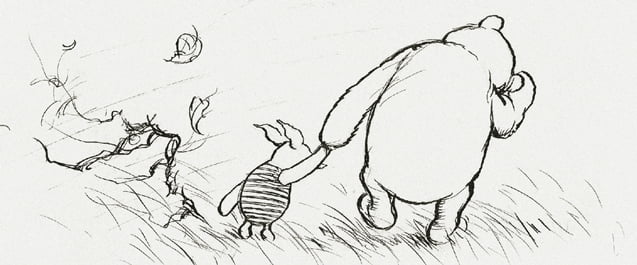 Winnie the Pooh was too successful
To listen to this post, click here –
On this day in 1924, Winnie the Pooh by A A Milne was published.
Milne wrote the stories about Pooh, Piglet and the rest for his young son, Christopher Robin Milne. To enter their little world is to feel happy and secure: "When you wake up in the morning, Pooh," said Piglet at last, "what's the first thing you say to yourself?" "What's for breakfast?" said Pooh. "What do you say, Piglet?" "I say, I wonder what's going to happen exciting today" said Piglet. Pooh nodded thoughtfully. "It's the same thing, he said."
After the huge success of the books, Milne became increasingly frustrated, wanting recognition as a more serious writer. This never came and he will always be remembered as the creator of the magical world of Christopher Robin.
Today's poem is about childhood – The Swing, by Robert Louis Stevenson:
How do you like to go up in a swing,
Up in the air so blue?
Oh, I do think it the pleasantest thing
Ever a child can do!

Up in the air and over the wall,
Till I can see so wide,
River and trees and cattle and all
Over the countryside –

Till I look down on the garden green,
Down on the roof so brown –
Up in the air I go flying again,
Up in the air and down!
Today I ask that I will be grateful for the small and simple things in life