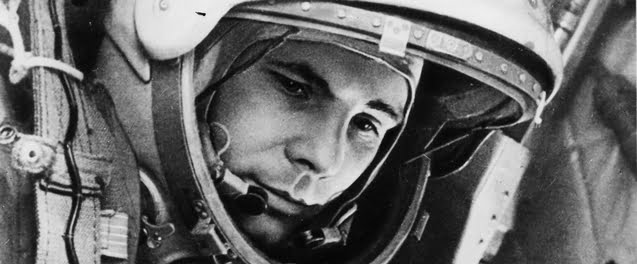 Yuri Gagarin fell to earth
On this day in 1961 Russian cosmonaut Yuri Gagarin became the first man in space when he orbited the earth.
Gagarin's small size of 5ft 2in meant that he could fit in the tiny Vostok space capsule but he must have had other qualities, as all but three of his fellow cosmonauts voted for him to be 'the one'. He seems to have been a genuinely nice and humble man; after his great feat, he travelled to many countries and liked to meet ordinary people.
Tragically he died aged 34 in an aircraft accident that seems to have happened through botched flight control information; the Soviets didn't always get things right.
Here is a poem by Wordsworth about the stars that Gagarin saw:
It is no Spirit who from heaven hath flown,
And is descending on his embassy;
Nor Traveller gone from earth the heavens to espy!
'Tis Hesperus—there he stands with glittering crown,
First admonition that the sun is down!
…O most ambitious Star! An inquest wrought
Within me when I recognised thy light;
A moment I was startled at the sight:
And, while I gazed, there came to me a thought
That I might step beyond my natural race
As thou seem'st now to do; might one day trace
Some ground not mine; and, strong her strength above,
My Soul, an Apparition in the place,
Tread there with steps that no one shall reprove!"
Today I will remember the words of Oscar Wilde: 'we are all in the gutter but some of us are looking at the stars'.