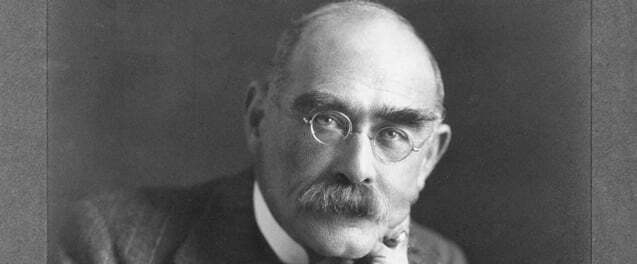 Rudyard Kipling, poet of the Empire
On this day in 1865 the English writer and poet Rudyard Kipling was born. The name Kipling is almost synonymous with the British Empire and many of his finest stories such as Kim and The Jungle Book were written about India. Kipling was born in Bombay and spent many years in India, though he was educated in England and returned there at the age of 23.
He travelled a lot but settled in Sussex with his family and died at the age of 70. Although famous for his barrack room ballads, he was never a regular soldier. He won the Nobel Prize for literature in 1907. His poem, Mandalay, is a fine example of what he does so well – it combines the mystery of the Orient with the earthy practicality of the British soldier who, at the height of the empire, might find himself on duty almost anywhere in the world.
I am sick o' wastin' leather on these gritty pavin'-stones,
An' the blasted English drizzle wakes the fever in my bones;
Tho' I walks with fifty 'ousemaids outer Chelsea to the Strand,
An' they talks a lot o' lovin', but wot do they understand?
Beefy face an' grubby 'and –
Law! wot do they understand?
I've a neater, sweeter maiden in a cleaner, greener land!
On the road to Mandalay
Ship me somewheres east of Suez, where the best is like the worst,
Where there aren't no Ten Commandments an' a man can raise a thirst;
For the temple-bells are callin', an' it's there that I would be
By the old Moulmein Pagoda, looking lazy at the sea;
On the road to Mandalay,
Where the old Flotilla lay,
With our sick beneath the awnings when we went to Mandalay!
O the road to Mandalay,
Where the flyin'-fishes play,
An' the dawn comes up like thunder outer China 'crost the Bay!
Today I will try to understand and respect people of all races and origins.