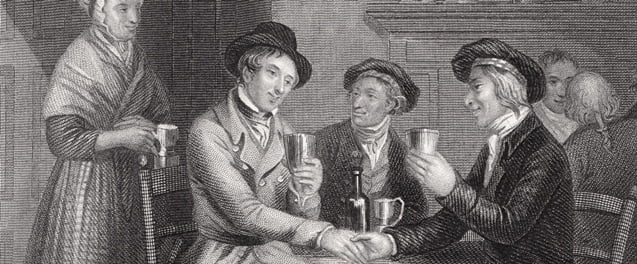 Hogmanay or the 'Daft Days'
Today is known in the Northern regions of Britain as Hogmanay. The origins of the word and its surrounding customs are uncertain. In Scotland, Hogmanay has been the more traditional celebration since the Protestant Reformation, probably because Christmas was seen as too 'Papist'.
The custom of 'first footing' and the giving of symbolic gifts such as coal, shortbread and whisky are intended to bring luck. The old English Twelve Days of Christmas, sometimes called the "Daft Days" in Scotland, are not greatly observed north of the Border. Nowadays Hogmanay is often seen as the excuse for a huge and lengthy party, with Edinburgh leading the way.
This part of The Song of Hogmanay comes from Carmina Gadelica, the collection of Gaelic hymns and incantations made by Alexander Carmichael in the 19th century:
Tonight is the last night of the year,
Be generous to me in the dwelling,
As I come to sing my Hogmanay song,
Give to me timely heed.
Some at flattery, some at lies
Some at words unwonted,
Others devouring the gizzards
Of the wheezy grey fowls;
Some of them fixing their back-teeth
In the black joints of the cattle,
And some of them hunkering down
In a corner on a heap of potatoes.
I pray for you sweethearting and peace,
Until a year from this time, o friends,
And since my feet are bare,
Open to me the fastening of the door!
Today I reflect on the old year and look forward with hope to the next.