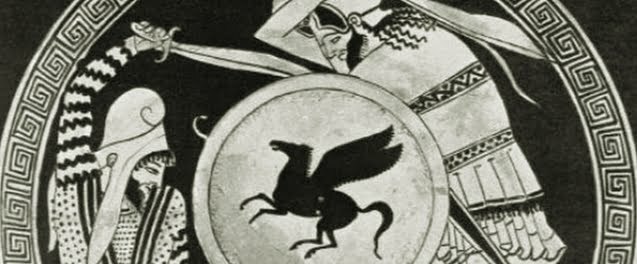 Ancient Athens defeats the mighty Persians at Marathon
To listen to this post, click here – 
On this day in 510 BC the Athenian Army under its clever general Miltiades defeated a much larger Persian Army at the Battle of Marathon.
He had also served in the Persian army and knew the tactics they used. He ordered the Athenians to attack at a run, not giving the feared Persian bowmen time to get ready. The plan worked and the Persians were driven back into the sea.
The Spartans, who arrived too late to help, could not believe the result and insisted on touring the battlefield to count the dead; but the Athenians knew they had been lucky and later put great effort into enlarging their army and their fleet. Marathon broke the myth of Persian invincibility, and lent confidence to the Greeks to fight the Persians again at Salamis and Plataea.
Battles are much the same all over the world – they end with a lot of people dead. Here is a description from ancient China by the poet Chu Yuan writing about 300 BC, Battle:
We grasp our battle-spears: we don our breast-plates of hide.
The axles of our chariots touch: our short swords meet.
Standards obscure the sun: the foe roll up like clouds.
Arrows fall thick: the warriors press forward.
They menace our ranks: they break our line.
The left-hand trace-horse is dead: the one on the right is smitten.
The fallen horses block our wheels: they impede the yoke-horses!
They grasp their jade drum-sticks: they beat the sounding drums.
Heaven decrees their fall: the dread Powers are angry.
The warriors are all dead: they lie on the moor-field.
They issued but shall not enter: they went but shall not return.
The plains are flat and wide: the way home is long.
Their swords lie beside them: their black bows, in their hand.
Though their limbs were torn, their hearts could not be repressed.
They were more than brave: they were inspired with the spirit of Wu.
Today I ask that the world will one day become free of all wars.