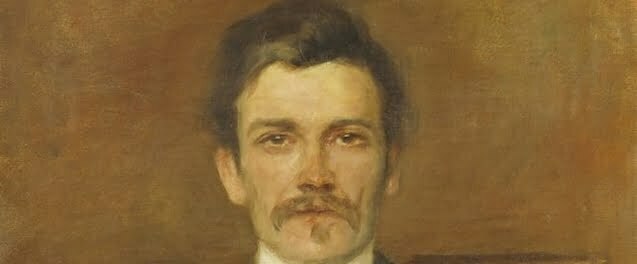 John Millington Synge upsets the noble peasantry
On this day in 1909 Irish playwright and poet John Millington Synge died. Many of his best known plays are about Irish Catholic peasants in the west of Ireland. Performances of The Playboy of the Western World were interrupted by disturbances at the Abbey theatre in Dublin, with people objecting to a perceived slight on the noble peasantry.
Synge lived in Paris and London at times and was a big influence on later Irish writers such as Beckett and O'Casey; it is said that the tramps and vagabonds that feature in many of Beckett's plays were copied from his work. Synge died at the untimely age of 38.
This poem, The Curse, was written about the sister of an author's enemy who disapproved of The Playboy of the Western world:
Lord, confound this surly sister,
Blight her brow with blotch and blister,
Cramp her larynx, lung, and liver,
In her guts a galling give her.
Let her live to earn her dinners
In Mountjoy with seedy sinners:
Lord, this judgment quickly bring,
And I'm your servant, J. M. Synge.
Today I will try to grow spiritually by replacing fear and hatred with faith.