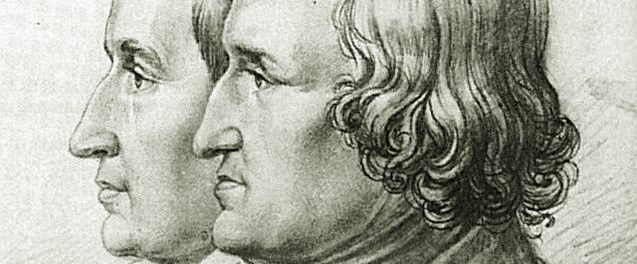 The brothers Grimm write some stories
To listen to this post, click here –
On this day in 1863 Jakob Grimm died, the elder of the German Brothers Grimm.
A notable scholar, his great work was the definitive German Dictionary (Deutsches Wortebuch) which was unfinished at his death. Its 33 volumes were finally completed in 1961. The Grimm's were among the best-known storytellers of folk tales, and popularised stories such as Cinderella, The Frog Prince, Hansel and Gretel, Rapunzel, Rumpelstiltskin, and Snow White. Their first collection of folk tales, Children's and Household Tales (Kinder- und Hausmärchen), was published in 1812 and is now world famous. English fairy tales tend to be a little bit more surreal than the frighteningly realistic German versions, such as in this poem by Lewis Carroll, Jabberwocky:
Twas brillig, and the slithy toves
Did gyre and gimble in the wabe:
All mimsy were the borogoves,
And the mome raths outgrabe.
"Beware the Jabberwock, my son!
The jaws that bite, the claws that catch!
Beware the Jubjub bird, and shun
The frumious Bandersnatch!"
One, two! One, two! And through and through
The vorpal blade went snicker-snack!
He left it dead, and with its head
He went galumphing back.
"And hast thou slain the Jabberwock?
Come to my arms, my beamish boy!
O frabjous day! Callooh! Callay!"
He chortled in his joy…
Today I give thanks for all those adults who can inspire and help children.