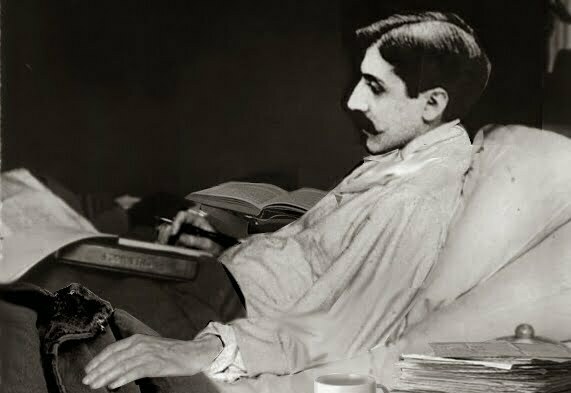 Ways of Writing
If you are aspiring to be a blogger ( and these days, who isn't ?) and finding it difficult, you might like to reflect that until recently, the act of writing was not so easy.
I became interested in just how writers produce their work after reading about Marcel Proust who spent fourteen years in his famous cork lined bedroom in Paris writing 'A la Recherche du Temps Perdu ', his monumental work of nearly 1.5 million words, all written in pen and ink. Proust always worked in bed and always at night. Was this, I wondered, a good way of doing things, or did other writers have better ways. I decided to do a bit of research and these are the results.
Areas I looked at were: the times when writers worked, whether they had day jobs as well, where they wrote, the position they wrote in and whether they used stimulants of any kind. Also if they followed a daily routine. The results were interesting, surprising and sometimes baffling.
Most writers worked during the day though a significant number worked at night and slept during the day. Besides Proust, night owls include Balzac, Flaubert, Schiller, Kafka, Joyce, Beckett and Truman Capote. Descartes produced all his greatest work in bed and might have produced more, had he not gone to work for the Queen of Sweden who insisted he get up and see her every morning, early. The shock was so great that he died soon afterwards.
Conclusion: if you have a lot to write, then bed might be the best place to do it but, once in bed, don't get out.
A few great writers had day jobs as well (a comforting thought for us bloggers). Trollope worked for the Post Office, TS Eliot of course worked for Lloyd's Bank and Philip Larkin for the Public Library in Hull, inspiring some of his best known lines:
"Morning, noon & bloody night,
Seven sodding days a week,
I slave at filthy WORK, that might
Be done by any book-drunk freak.
This goes on until I kick the bucket.
**** IT **** IT **** IT **** IT"
Conclusion: it's ok to have a day job but it must be so boring that writing will seem a blessed relief.
The position of writing may not seem important but clearly was to some. Hemingway always wrote standing upright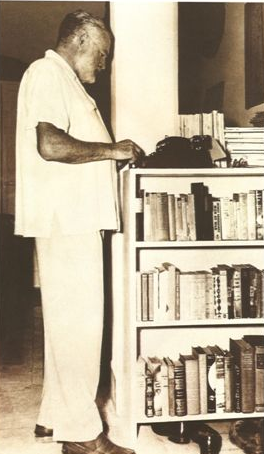 as did Victor Hugo but he had to be facing a mirror. Thomas Wolfe also wrote standing up but he liked to be naked. Nabokov wrote in bed when a young man but later wrote standing at a lectern. Certain others such as Dylan Thomas and Scott Fitzgerald tried all sorts of positions but eventually ended up horizontal.
Conclusion: I'm confused
Stimulants and depressants of all kinds were used by many. Auden, Sartre and Graham Greene all used a combination of alcohol and amphetamines to keep their work rate high while Simenon used tranquillisers to dampen the anxieties he felt at the start of each book. Many writers used alcohol, some notably to excess and many more smoked tobacco seeing both as a necessary part of the creative process; certainly poets such as Dylan Thomas, Coleridge and in France, Verlaine, Rimbaud and Baudelaire put forward a powerful case for the inspiration that alcohol and drugs gave them.
Conclusion: what's good for the poet won't work for the novelist.
Writers who followed a strict daily routine were, unsurprisingly those with the greatest outputs –
Dickens (15 long novels), Scott (24 long novels), Victor Hugo(over 50 published works), Mark Twain (15 novels), PG Wodehouse (96 books) and Tolstoy (12 long novels) all followed strict daily routines and a moderate lifestyle – the only way they could maintain their enormous output in an age before even the typewriter was in general use. Somerset Maugham produced seventy eight books following strict daily rules and always wrote facing a blank wall; he probably needed to.
Conclusion: lucky for us they were pre computers.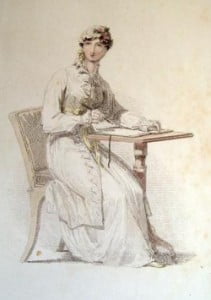 Is it possible then to lead a fairly ordinary life, meet one's family commitments and turn out a stream of best selling works as you go along? One shining example springs to mind – Jane Austen, admired now and in her lifetime, who would sit quietly writing in a corner of the living room having made the family breakfast; when visitors came she would cover her papers and pretend to be sewing. Three years ago one of her manuscripts sold for $1.6million.
Finally, if you are finding writing difficult, think of Christy Brown, an Irish writer born with cerebral palsy who was able to write or type only with the toes of one foot. He nevertheless wrote nine published works including the acclaimed autobiography " My Left Foot" which was later made into an Academy Award-winning film. That's writing that is difficult.